As our Assembly District 67 communities respond to the outbreak of the Novel Coronavirus (hereinafter, COVID-19), it is important to stay informed and be proactive about keeping yourself, your family, and your community healthy and safe. Here are some resources that can help provide guidance, updates, and useful information on COVID-19:
COVID-19 Health Guidance and Protocols
---
Assembly District 67 County and City Updates:
Please remain up to date by going to the following city, county, state, and federal sites to learn about any updates regarding the coronavirus.
County Resources
COVID19 OC Health Tracker or call the OC Health COVID-19 Hotline 833-426-6411
Orange County Social Service Agency: County of Orange Social Services Agency to Consolidate Saturday Drive Through Benefits Issuance at Santa Ana Regional Center
SafeDine OC Grant Program: The County of Orange is supporting local restaurants that are reopening safely. Recipients can receive up to $5,000 in grant funds to reimburse for masks, employee training, site reconfiguration, cleaning supplies, and more
State Resources
---
School Districts
All schools in the 67th Assembly District have implemented emergency temporary closures of schools in response to the outbreak of COVID-19. These actions were taken as a precautionary measure to prevent and mitigate the spread of the virus. We encourage families of students to stay updated with the latest information on their schools by visiting their websites: 
---
State Resources Small Businesses and Employees: 
State
Small Business Government COVID-19 Resource Page
State Treasurer's Office California Capital Access Program (CalCAP)
I Bank Small Business Finance Center
Labor and Workforce Development Agency Coronavirus 2019 (COVID-19) Resources for Employers and Workers
Employment Development Department Unemployment Insurance Benefits
Employment Development Department Rapid Response Services for Businesses
Orange County/Inland Empire Small Business Development Center 
---
Resources for Constituents:
U.S. Department of Veteran Affairs
California Telephone Access Program (CTAP) 
Please continue to check the CVS Health website for frequent updates and please feel free to reach out to us as needed. We hope that you continue to stay safe, healthy as we go through these times together.
Tenants and renters can visit to access the interactive tool to understand their rights and options under the Tenant Relief Act of 2020.
OC One Stop Mobile Unit: For those seeking assistance with employment, EDD, and other concerns.  
Federal Department of Housing and Urban Development CARES Act Emergency Solutions Grant (ESG-CV) being administered by the State's Department of Housing and Community Development (HCD) through allocations to counties.  This $315 million investment provides one-time COVID response funds to address homelessness through emergency shelter, street outreach and rapid rehousing that must be expended by the fall of next.  The HUD deadline to expend 20% of the funds is in just over a month's time by September 30, 2021.  
HCD is pleased to be a resource to you in this effort and if you are interested in learning how your district's homelessness response system is intending to use ESG-CV funds or have questions, please contact: Stephanie Hershberger at Stephanie.Hershberger@hcd.ca.gov and cc: Pedro Galvao at pedro.galvao@hcd.ca.gov. You may also call Stephanie at 916-820-1280.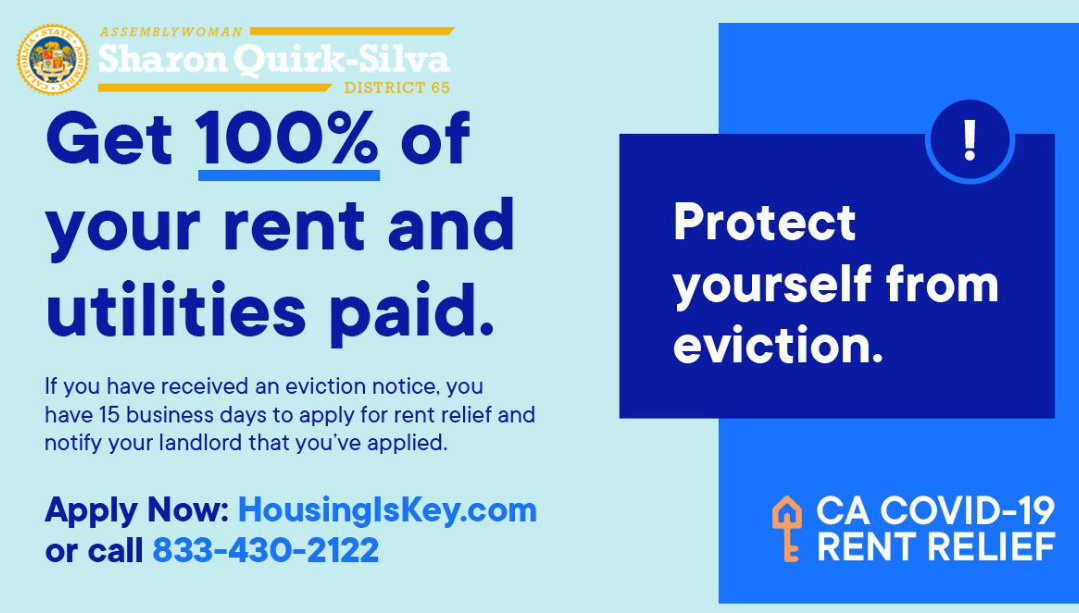 With the eviction moratorium set to end today, now is the time to utilize state resources available to renters and landlords. Starting October 1, landlords cannot seek an eviction of tenants who are eligible for the program without completing a rental assistance application with the program.
Learn more at housingiskey.com or by calling 833-430-2122.
---
DEPARTMENT OF MOTOR VEHICLES (DMV)
Please visit the DMV website for more information.
DISCLAIMER - Updated information will be added as more services become available and circumstances change. 
Contact Follow-Up 
Assemblywoman Quirk-Silva's staff will continue to monitor the situation and keep constituents updated with information and resources. Please don't hesitate to reach out to the District Office at (714) 525-6515 with any questions, concerns, or need for assistance. We are here to help.