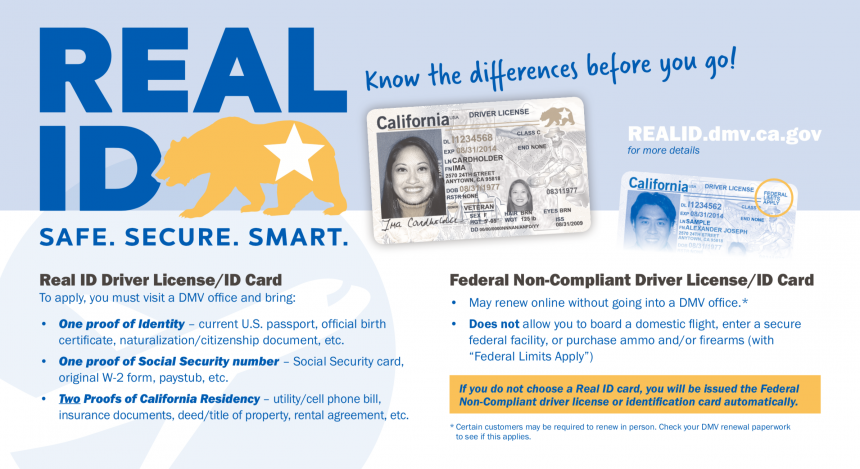 The California Department of Motor Vehicles (DMV) is now offering REAL ID compliant driver licenses and identification cards. As mandated by the REAL ID Act of 2005, a REAL ID, U.S. Passport or military ID will be required by the federal government to board domestic flights, or to access some federal facilities starting on May 3, 2023.
If you use your driver license or ID card to get through airport security, or to access a federal facility this will soon change.
California is working to meet the new standards set by the federal government, and will be making available REAL ID compliant driver licenses and identification cards at all DMV locations throughout the State of California.
According to the DMV, residents interested in applying for a REAL ID compliant driver license or identification card must do the following:
Make an appointment to visit a field office.

Appointments can be made online by visiting www.dmv.ca.gov or by calling 1-800-777-0133.

Provide proof of identity (for example: U.S. birth certificate, U.S. passport, certificate of naturalization or citizenship, employment authorization document, permanent resident card, or foreign passport with an approved form I-94).
Show two (2) forms of California residency document (for example: utility bill, rental agreement, mortgage bill, medical document).
Present proof of your Social Security Number (for example: Social Security Card, W-2 form, SSA-1099 form, Non-SSA-1099 form, Paystub (with full SSN).
Valid California driver licenses and identification cards can be used to board commercial flights until May 3, 2023.
Also, if you have a valid U.S. Passport or U.S. Passport Card, military ID, or other federally approved identification, you may use this as your form of identification to pass a TSA checkpoint at airports nationwide and visit a secure federal building or military installations at any time.  Make sure to check with the federal facility/military base before you visit to verify their identification requirements.
The cost for a REAL ID driver license or identification card is the same as those currently charged for a standard driver license or identification card. REAL IDs will have a special marking of the California grizzly bear with a star on the top right corner of the card.
For more information on REAL ID, please visit REALID.dmv.ca.gov.